Patient Record
Species: Olive Ridley Sea Turtle
Patient ID: LO1901
Admitted on: 2019/10/01
Collection Site: Port Alberni
Reason for Admission: Cold-stunned
Weight at Admission: 26.9 kg
Patient Status: in care
Time in Care: 7 days
Transfer History
Received from: (Direct to MMR)
Mode of Transport: DFO, BC Ferries, MMR Ambulance
Transfer to: Vancouver Aquarium
Date of Transfer: 2019/10/08
Reason for Transfer: Temporary relocation for rehabilitation
Story
"Berni" is an Olive Ridley sea turtle, a species usually found only in warmer waters. He was rescued by members of the public at Port Alberni (Vancouver Island) on September 30th, 2019 and appears to be "cold-stunned", a condition that occurs in sea turtles when the water temperature falls below 10 degrees Celsius. Cold-stunned sea turtles experience a decrease in heart rate and circulation causing them to become lethargic to the point where they are unable to swim or forage. Berni is only the fourth Olive Ridley sea turtle recorded in B.C. waters and only the second of that species to be treated at the rescue centre.
Symbolic Adoption
You can help us care for Berni and the more than 100 marine mammals we rescue, rehabilitate and release every year by symbolically adopting him today with a small donation to the rescue centre.
Patient Updates
Berni had a CT scan today. All looks good!
While Berni remains our patient, he has been moved to the Vancouver Aquarium where the infrastructure exists to provide him with a better habitat with more sophisticated environmental control and life support systems. This step will give Berni the best chance for a successful rehabilitation.
Radiographs showed no abnormalities. His body temperature is slowly rising.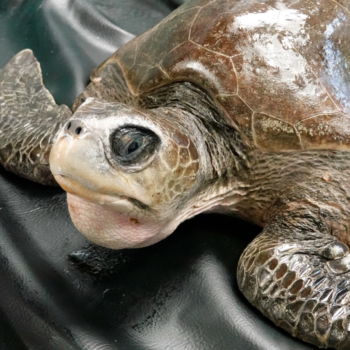 Berni seems to be responding to treatment. The plan is to slowly raise his body temperature over time. He is receiving fluids to treat dehydration. Cold-stunning can result in pneumonia, so Berni is also being treated with antibiotics.
Guestbook for Berni