Patient Record
Species: Harbour Seal
Patient ID: PV2015
Admitted on: 2020/07/05
Collection Site: Blackie Spit, Surrey
Reason for Admission: Maternal separation; Underweight
Weight at Admission: 9.81 kg
Patient Status: in care
Time in Care: 41 days (1 month, 1 week, 3 days)
Current Habitat: Orca Pool
This is a pool designed to accommodate cetaceans, e. g. harbour porpoise. It is also used as the largest pre-release pool, holding 160,000 litres of water. When used for harbour seal pups, those who have made it this far will soon be released. They have already demonstrated that they can eat fish on their own and compete with others. They are probably already tagged as well. Now they only need to gain a little bit of weight.
Also in Orca Pool with Beau:Dougie, Sam, Alice Chanel, Ligo, Loomster, Peachie, MWP, Dexter, HF Justin Turbot, Lisa
Transfer History
Received from: (Direct to MMR)
Mode of Transport: Staff
Symbolic Adoption
You can help us care for Beau and the more than 100 marine mammals we rescue, rehabilitate and release every year by symbolically adopting him today with a small donation to the rescue centre.
Patient Progress
Pre-Release Pool Beau has demonstrated that he is confident eating fish on his own and that he can compete for food with other harbour seals. He has been moved to a larger pool where he can further test and improve his skills. He will move between pools as he progresses further and develops his skills until he reaches his release weight. It can take just a few weeks or several months before a patient is ready for release, depending on health status and treatment plan, weight gain and transport availability.
Patient Updates
Beau has been fully weaned, but he still requires some encouragement in fish school.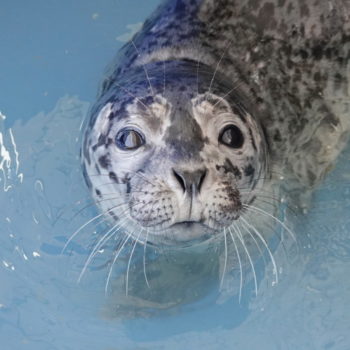 Beau is being described as a "very good boy" ─ meaning that he's learning quickly, is already being weaned and will be on fish tomorrow!
Beau seems to be an easy patient. He's rather sweet, doing really well and gaining weight.
Guestbook for Beau