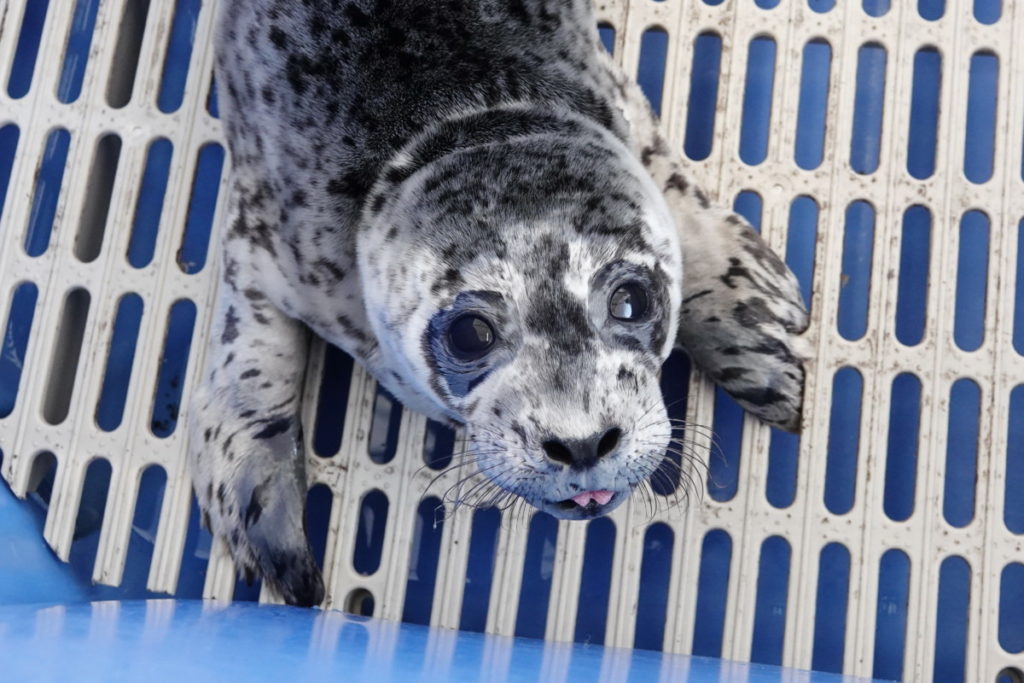 Patient Record
Species: Harbour Seal
Patient ID: PV2017
Admitted on: 2020/07/06
Collection Site: Esquimalt, BC
Reason for Admission: Emaciated; Maternal separation
Weight at Admission: 6.4 kg
Patient Status: in care
Time in Care: 40 days (1 month, 1 week, 2 days)
Current Habitat: Ellie Pool
Patients that have already demonstrated that they can eat fish on their own are placed in a pool where they can learn how to compete with other animals. This is one of the smaller pools with a haul-out platform in the centre. It can only fit a few animals and is a good starting point for patients that have never been housed with another seal.
Also in Ellie Pool with Dawn:Yoda, Floyd, Zenon Samuel, Carlita
Transfer History
Received from: (Direct to MMR)
Mode of Transport: Harbour Air
Symbolic Adoption
You can help us care for Dawn and the more than 100 marine mammals we rescue, rehabilitate and release every year by symbolically adopting her today with a small donation to the rescue centre.
Patient Progress
Pre-Release Pool Dawn has demonstrated that she is confident eating fish on her own and that she can compete for food with other harbour seals. She has been moved to a larger pool where she can further test and improve her skills. She will move between pools as she progresses further and develops her skills until she reaches her release weight. It can take just a few weeks or several months before a patient is ready for release, depending on health status and treatment plan, weight gain and transport availability.
Patient Updates
Dawn is currently in a pool together with Carlita ─ and they're the cutest thing ever.
Dawn has been fully weaned and is eating only herring now! She has almost graduated from fish school!
She still looks a bit skinny, but there's progress! She seems to be doing well.
Guestbook for Dawn